Faculty Information System: How to Create an Annual Review Report
Annual Report
The Faculty Information System lets you easily create an annual review report for your department chair or dean. In addition to information from your CV, the reports can contain information about goals and accomplishments.
To create an annual report:
Log in to the Faculty Information System. Select Menu>Build>CV and Reports

Select Faculty Report (Annual), specify both a Start date and an End date, then choose a file format (either PDF or Word). When you are done click the Download button.
Note for date ranges: The start date and end date range for an annual report should encompass a year (365 days). The academic calendar year begins on July 1 and runs through June 30 of the following year (for example, July 1, 2015 through June 30, 2016).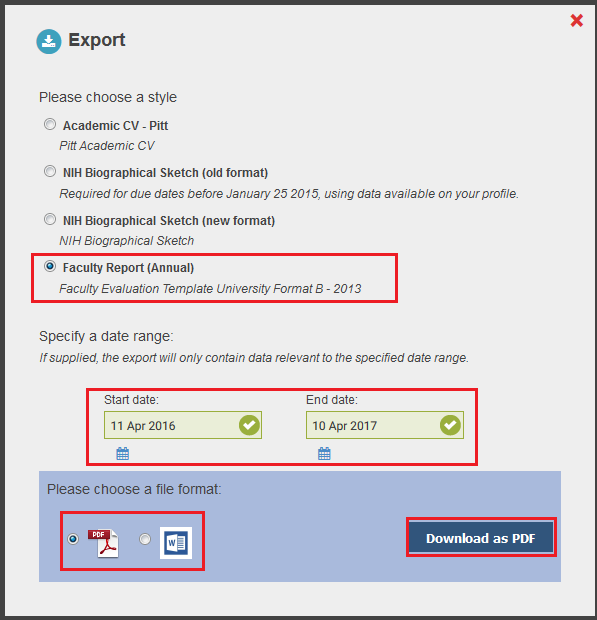 Follow the onscreen prompts to open or save your file.
Note: If you save your file, take note of the location where it was saved.


I have an entry from 2014 that was included as part of my faculty report generated for the 2016-2017 reporting period. Why was this entry included?
When generating faculty reports for the 2016-2017 reporting period, make sure that entries in your profile (publications, grants, professional activities, and teaching activities) have a start and finish reporting date entered.
If the reporting date field is not filled in for an entry, the report will include it by default. This is why an entry such as a journal article or grant from 2014 may show up in the report that you have entered a date range of 2016-2017.
To change the reporting date for an entry, take the following steps:
Locate a record that you wish to include or exclude from your report.
Note: You can change reporting dates for publications, grants, professional activities, and teaching activities.
Locate Reporting dates: - to - , then click Edit to add a reporting date for a record.

Click the field for start and end reporting dates. For each report date range field, select a month, year, and day from the calendar pop-up window.
Note: All dates in Elements use DD/Month/YYYY European formatting (for example, 01 May 2017 instead of May 1, 2017).

Click Save.

The record will be updated with those reporting dates.

When you create your faculty report, use the Start date and End date calendars to search for and select dates. Only records with corresponding date ranges will appear in the annual report.