My Pitt Video: Installing the Mac Recorder
Install and Setup
This document will walk you through the installation of the My Pitt Video (Panopto) Mac Recorder for Intel-based Macintosh PCs running at least OSX Mountain Lion 10.8.x.
Specifications
Mac OSX versions 10.8.x (Mountain Lion), 10.9.x (Mavericks), 10.10 (Yosemite), 10.11.x (El Capitan)
Intel-based - Dual core 2.0GHz / 2GB RAM (recommended) FireWire ports for digital cameras
Built-in iSight camera (optional)
USB ports for webcams or other recording devices Disable sleep mode, screen savers and scheduled tasks
Microsoft Silverlight Player Installation
Installation of Microsoft Silverlight player is only required for viewing recordings.
Download from Microsoft by visiting Get Silverlight 5.
Mac Recorder Installation
1. Log into the My Pitt Video environment by:
Logging into the My Pitt portal with your University Computing Account username and password
Navigating to the My Pitt Video community under My Resources
Clicking on the My Pitt Video (powered by Panopto) link in the community
Clicking the Sign In button to access the sign-in options
Making sure that "Pitt-CourseWeb" is selected and clicking the ensuing Sign In button
2. This should place you on the My Pitt Video sessions page. You can download the Panopto Recorder by clicking the "Download Panopto" button at the top of the window.

3. Click the Download Installer link for OSX.

4. Run the "Panopto Recorder.pkg" file.
5. Click "Continue".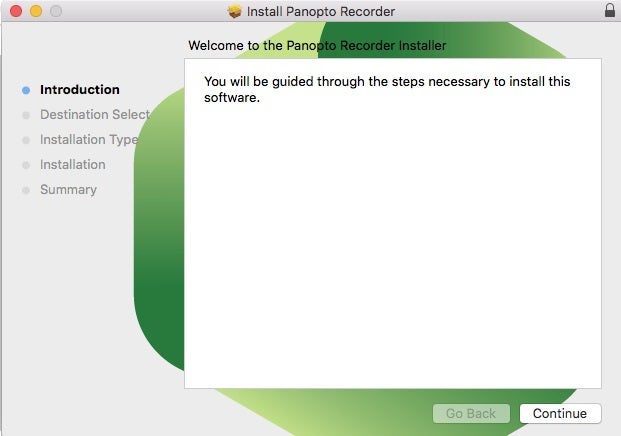 6. Click "Continue".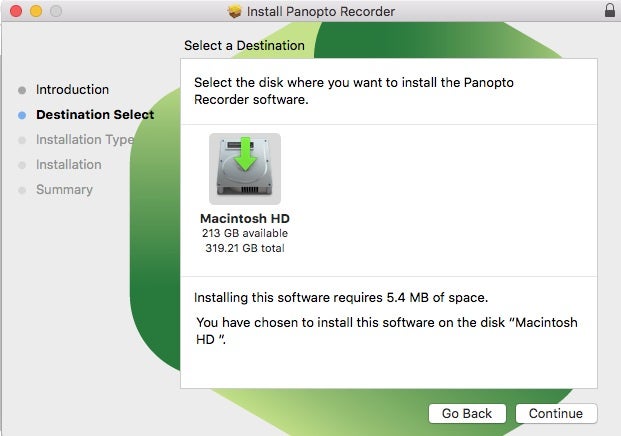 7. Click "Install".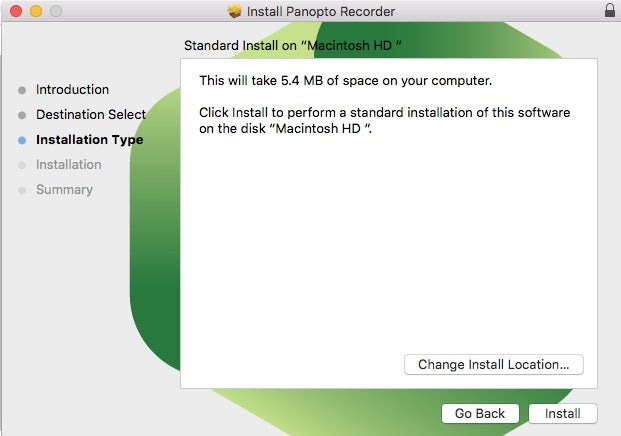 8. If prompted, enter credentials for installation, and then click "Install Software".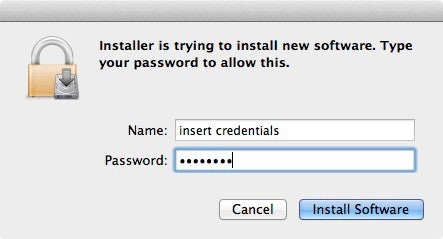 9. Click "Close".