My Pitt Video: Installing the Windows Recorder
Overview
This help sheet will walk you through installation of the My Pitt Video (Panopto) Recorder on a Windows-based computer. The software can be installed on any computer running Windows 7, Windows 8, or Windows 10. The most important consideration is the amount of available hard drive space so that long sessions can be supported.
System Requirements
Windows 7/Windows 8.1/Windows 10 (32-bit and 64-bit)/Mac OSX 10.8 (and above)
Adaptive Streaming Capture Format Disabled: Core 2 Duo 1.8GHz/2GB RAM (recommended)
Adaptive Streaming Capture Format Enabled: Standard/High: Intel i3 2.5 GHz or 2.6GHz AMD Phenom IIX4 910. Ultra: Intel i7 2600 Processor (3.4GHz) or 3.2GHz AMD Phenom II X6 1090T
Mac: Intel CPUs required
Microsoft .NET Framework 3.5 SP1
Microsoft Silverlight (only required for viewing recorded sessions) Recording Quality Options: High– 540MB/hr, Standard– 135MB/hr FireWire ports for digital cameras
Windows Media Player 10 (or higher) required for broadcast USB ports for Webcams or other recording devices
Disable sleep mode, screen savers and scheduled tasks
Installation
1. Log into the My Pitt Video environment by:
Logging into the My Pitt portal with your University Computing Account user name and password
Navigating to the My Pitt Video community under My Resources
Clicking on the My Pitt Video (powered by Panopto) link in the community
Clicking the Sign In button to access the sign-in options
Making sure that "Pitt-CourseWeb" is selected and clicking the ensuing Sign In button
2. This should place you on the My Pitt Video sessions page. You can download the Panopto Recorder by clicking the "Download Panopto" button at the top of the window.

3. Click the Download Installer link for Windows.

4. Locate the PanoptoRecorder.exe file that you've downloaded and run the application. The installer will self-extract and begin the installation.
5. Select a destination folder in which to install the recorder and click "Next".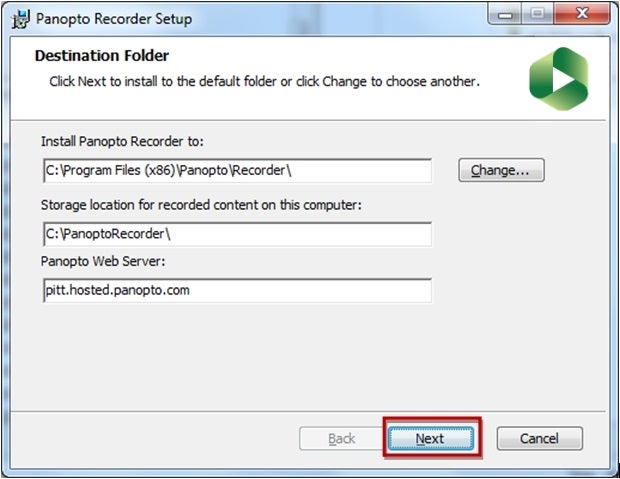 6. Click "Install" and the installation will begin.
7. Once the Recorder is installed you will be able to open the software. Click the "Log in with Courseweb" button.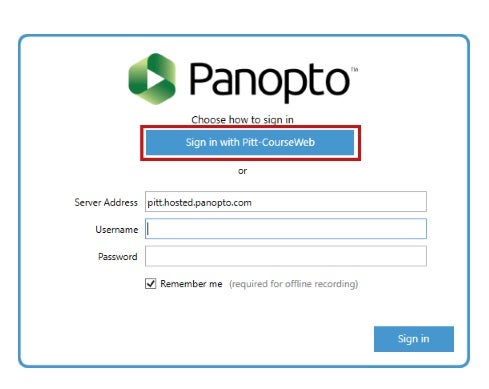 8. Log in by entering your University computing account username in the "Username" field and the associated password in the "Password" field, and then click "Login".