My Pitt Video: Mac Recorder Configuration
Overview
This help sheet will walk you through the basic configuration of the My Pitt Video (Panopto) Recorder on a Windows-based computer.
Logging In
1. Locate the My Pitt Video (Panopto) Recorder under Applications and run the app.
2. If you are logged in automatically, skip to step 6. If you are not logged in, click "Login".
3. Type pitt.hosted.panopto.com in the "Server" field and click "Get Providers for Server".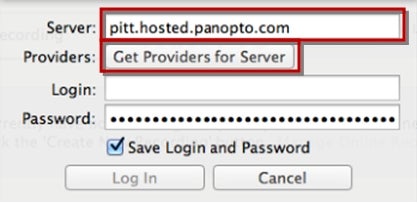 4. Select Pitt-CourseWeb from the Providers drop-down menu.

5. Type your University of Pittsburgh computing account username in the "Username" field and the associated password in the "Password" field, and then click "Login".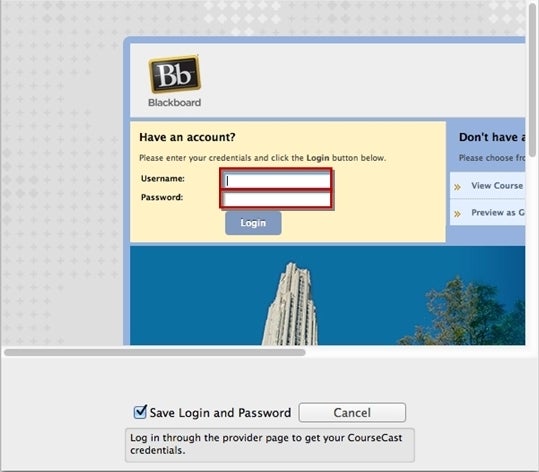 6. Click "Create New Recording."

Basic Recording
By default the Recorder is set to "None (Record Offline)." You can record content offline and upload to the server at a later time. If you would like to record directly to a folder on the server, click on the up/down arrows to select a folder. Alternately, you can create a folder by clicking create a folder by clicking on the "+" sign.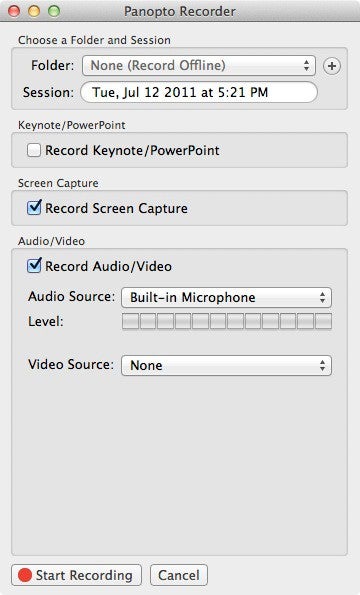 To start recording, please continue to Mac Basic Recording.
Additional Settings
Click the "Panopto Recorder" drop-down menu and choose "Preferences".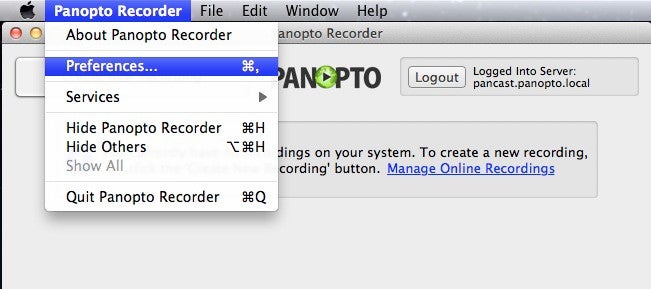 These settings can be customized to your preference.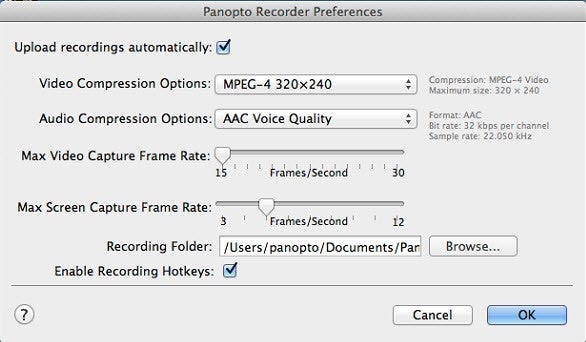 Upload Recordings Automatically: upon the completion of the recording, the files will be uploaded to the server.
Capture High Quality Video: this setting will adjust the quality of the recording that you are making.
Max Screen Capture Frame Rate: by adjusting the frame rate, you can set the amount of frames per second (FPS) that the screen capture function will capture your screen.
Recording Folder: this setting allows you to set the folder where your session files will be stored.
Enable Recording Hotkeys: this setting allows you to use the hotkeys within the Mac Recorder