My Pitt Video: Mac Recording Status
After ending a recording with the Mac Recorder you will be taken to the status screen. Here you will be able to free up room on your hard drive, find links to completed recordings, share recordings and see the progress of recordings that are not yet available for viewing.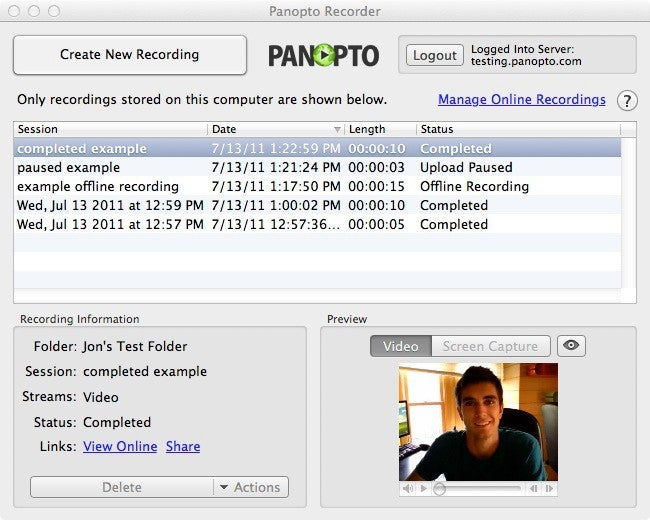 Session - Shows the session name, denoted by the user. Date - The date during which the recording was done.
Length - The duration of the recording.
Status - Shows the progress of the recording. By default the Mac Recorder will upload recordings once the user stops the recording.
Preview
During the upload progress or post-upload, the Preview function allows playback of either the audio, video (with audio) or screen capture of the recording. Click

to enlarge the view of the preview playback of the recording.
Recording Information
This section provides the details of the recording, the Folder to which it is being saved, the Session name, what Streams were recorded, the Status of the recording, and links to view the recording online or share the recording with others.
Note: if the recording has a status of Completed, two buttons will be visible: Delete and Actions.
Delete - Gives you the ability to delete the recording from folder Panopto Recordings on the local machine, which will free up hard drive space.
Actions -> Show Files - Will open the recording-named folder within the Panopto Recordings folder on the local computer, showing all files associated with that specific recording.
Example - Show Files: Click the button Actions and choose Show Files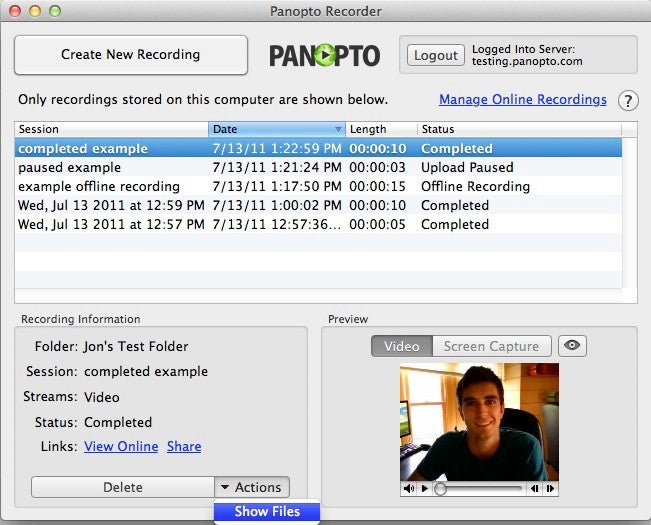 The window below displays the local files for this specific recording.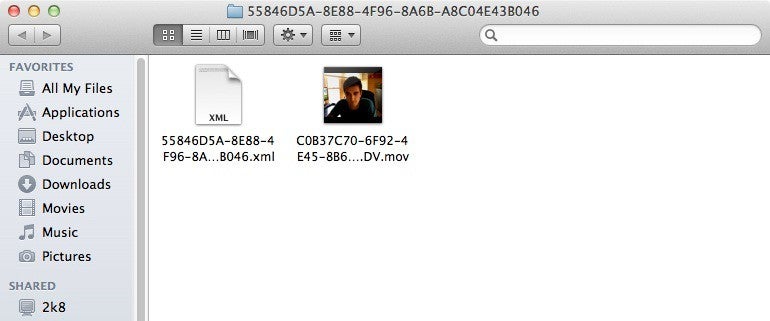 If the recording has a status of Upload Paused, the Delete button is replaced with Resume Upload, which will allow the recording to continue uploading to the server.
If the recording has a status of Offline Recording, the Delete button is replaced with Choose Folder and Upload.
Example - Offline Recording: Click the button Choose Folder and Upload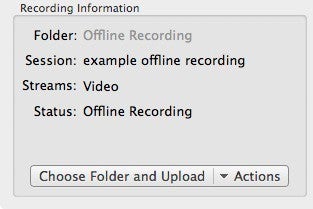 The Folder text box becomes active.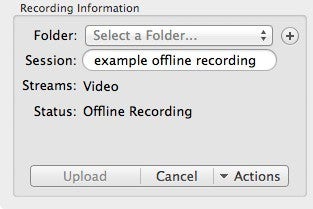 Choose the desired folder by clicking on the up/down arrows. To add a new folder, click on the
+ sign.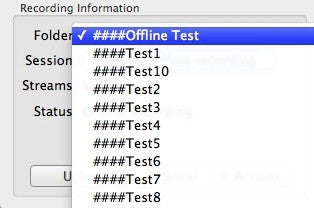 After choosing the folder, either keep the existing session name of the recording or rename it, and click Upload.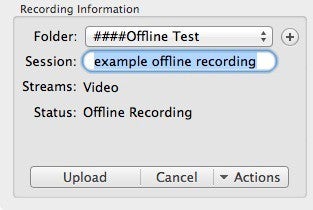 The recording will start to upload to the server. Within the list of recordings and on the Recording Information pane, the Mac Recorder shows the status of the recording.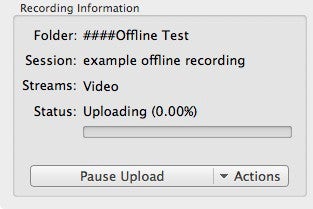 Once the recording is uploaded to the server, the Status will change to Completed and the recording can now be viewed online and shared with others.