Technical Support Desk at the University Store on Fifth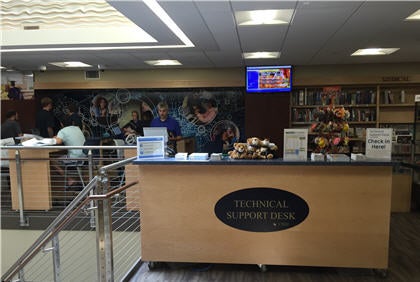 Walk-in Support: Stop by during our normal business hours to meet with a CSSD technical consultant, or call the Help Desk (412-624-HELP) in advance to schedule an appointment. We can help students, faculty, and staff connect to Wireless PittNet, configure your smartphone or tablet to receive My Pitt email, install Microsoft Office, or change your password. We can also help students remove viruses, connect to Pitt printers, install or repair software, and fix or even rebuild operating systems.
Drop-off Support: If repairs on a computer require more time than an in-person appointment allows, a student may drop off his or her computer and pick it up once repairs have been completed.
Note: Please bring your device's power cord and your Pitt ID with you.
Software
HOURS
FALL TERM 2171 HOURS (September 7 - December 17, 2016)
| | |
| --- | --- |
| Day | Hours |
| Monday   | 8:30 a.m. - 6:00 p.m. |
| Tuesday | 8:30 a.m. - 6:00 p.m. |
| Wednesday | 8:30 a.m. - 8:00 p.m. |
| Thursday | 8:30 a.m. - 6:00 p.m. |
| Friday | 8:30 a.m. - 5:00 p.m. |
| Saturday | 10:00 a.m. - 5:00 p.m. |
| Sunday | 12:00 p.m. - 4:00 p.m. |
Towers Lobby
FALL TERM 2171 HOURS (September 7 - December 17, 2016)
| | |
| --- | --- |
| Day | Hours |
| Monday | 2:00 p.m. - 9:00 p.m. |
| Tuesday | 2:30 p.m. - 9:00 p.m. |
| Wednesday | 3:00 p.m. - 9:00 p.m. |
| Thursday | 2:00 p.m. - 9:00 p.m. |
| Friday | 2:00 p.m. - 6:00 p.m. |
| Saturday | CLOSED |
| Sunday | 4:00 p.m. - 9:00 p.m. |